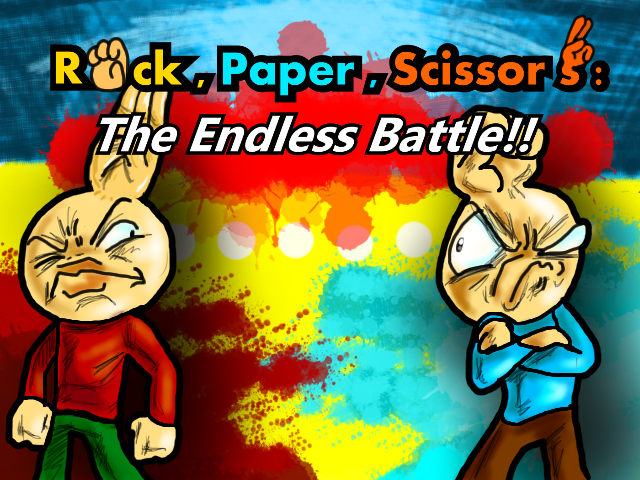 Rock, Paper, Scissors : The Endless Battle
Ever wondered how it would feel to punch someone in the face after winning at rock, paper, scissors? Well now you can with:
***************** Rock, Paper, Scissors : The Endless Battle!! **********************
A completely wacky, definitely Japanese versus game using the mechanic of the well known rock, paper, scissors game.
Have the winning hand?? You are unbeatable!
Have the same hand, you are evenly matched
Have the loosing hand, you better run!!
Get to the icon to change your hand to get the upper hand, or else you chances of winning will be paper thin!
***************************** SINGLE PLAYER MODE ******************************
In single player, use your wits of rock, paper, scissors to solve the different challenges!!
Will you be able to be the successor to the great Tewoutsu, only you can find out in:
Rock, Paper, Scissors : The Endless Battle!!
START-UUUU!!!!
********************************************************************************************
This game is still in development, I have released a beta/demo version of it, so you can get a feel of the game, please let me know if there is any bugs to fix, or what you thought of the game, it would be much appreciated! There will be definitely improvements in the game and or changes in the process of developing the game.
For now the game is played on keyboards( I recommend 2 keyboards for multiplayer). I will try to learn how to incorporate the game with xbox controllers to make the game more accessible.
For the full game there will be more:
---Versus levels
---Puzzle levels
---and a "story" going with the puzzle mode.
I will keep you up to date with my progress : )
----------------------- News Update -----------------------
Version 1.2 of full game is now available.
This includes:
--New select your hand before battle --

4 versus level -- new Kid's world
4 puzzle level
Story and ending of puzzle mode
Better interactive tutorial for puzzle mode
Lots of addictive fun!!
Download
Click download now to get access to the following files:
if you pay $2 USD or more